Need Help? Have Questions?
Call us at 1-757-787-7879 or email us at info@intunegp.com
*A proof will be provided prior to production if not using our template, if using our text/font selection or if revisions need to be made.
InTuneGP GrippX-XXXw Tri-Tips *Double Sided*
100 Picks Per Bag.
Price: $58.00

Volume Price
Quantity
Price Each
1
$58.00
2
$45.00
3
$41.50
4
$40.50
5
$38.00
6-7
$35.50
8-9
$33.50
10-999
$30.50
PickColor/Gauge :
InkColor :
Side 1 Text :
Side 1 Font :
Side 1 Artwork :
Side 1 Reorder :
Side 2 Text :
Side 2 Font :
Side 2 Artwork :
Side 2 Reorder :
Placement Instructions :
Building your custom guitar pick is easy!
Step 1: Choose your pick color, gauge and ink color. Since we offer a large variety of guitar pick colors and ink colors, we recommend that you click the "View Ink Colors" link (next to the "Select Your Ink Color" field) to see what ink colors will produce the best contrast on the pick color/material that you have chosen.
Step 2: Add Text and/or Upload Artwork for your Pick.
If using text that needs to be created by our Art Dept., place your text in the "Text for Side 1 or 2" field and specify the font that you would like used.
If uploading artwork, click the upload tab and select your image file from your computer.
Include any special notes or placement instructions in the "Notes / Re-Order Art Description" field. **RETURN CUSTOMERS: If you are using artwork that is already on file from a previous order, please give a brief description of the artwork on file to be used in this NOTES field.
The Notes field allows unlimited text.
You will receive a proof of your artwork via email for approval before production if your image is not submitted in finalized format on our pick template.
Step 3: Add your Custom Pick to Basket / Additional-Bag Discount Ordering
*The "Additional Bag" field is OPTIONAL*
PLEASE NOTE: TO RECEIVE THE MULTI-BAG PRICING, THE INK COLOR, ARTWORK AND PICK SHAPE MUST REMAIN THE SAME FOR ALL PICKS! A CHANGE IN INK COLOR REQUIRES A NEW LINE ITEM IN THE SHOPPING BASKET.
PLEASE CALL FOR PRICING ON ANY ORDERS THAT ARE 2,000 pcs. or LARGER* (Scroll back to the top to begin ordering)
Below are the ink colors we recommend for each of the picks we offer.
Although other ink colors may work, we have made the below recommendations to ensure your final product looks it's best. If you have any questions, please contact us at (757)787-7879 or at info@intunegp.com. Monday through Friday 9am to 5pm Eastern Time.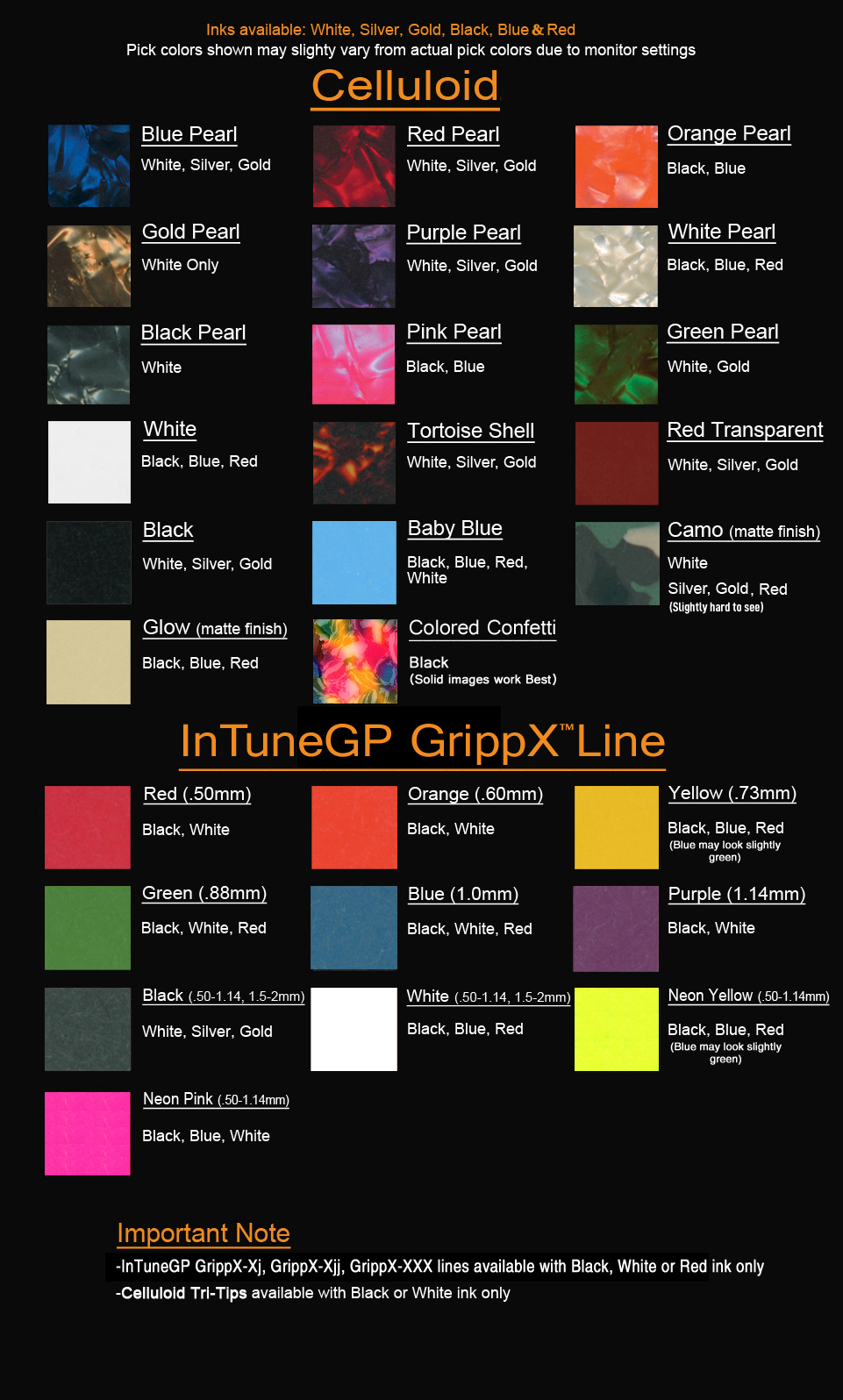 Fonts List:
Please allow time to load, the font list is very long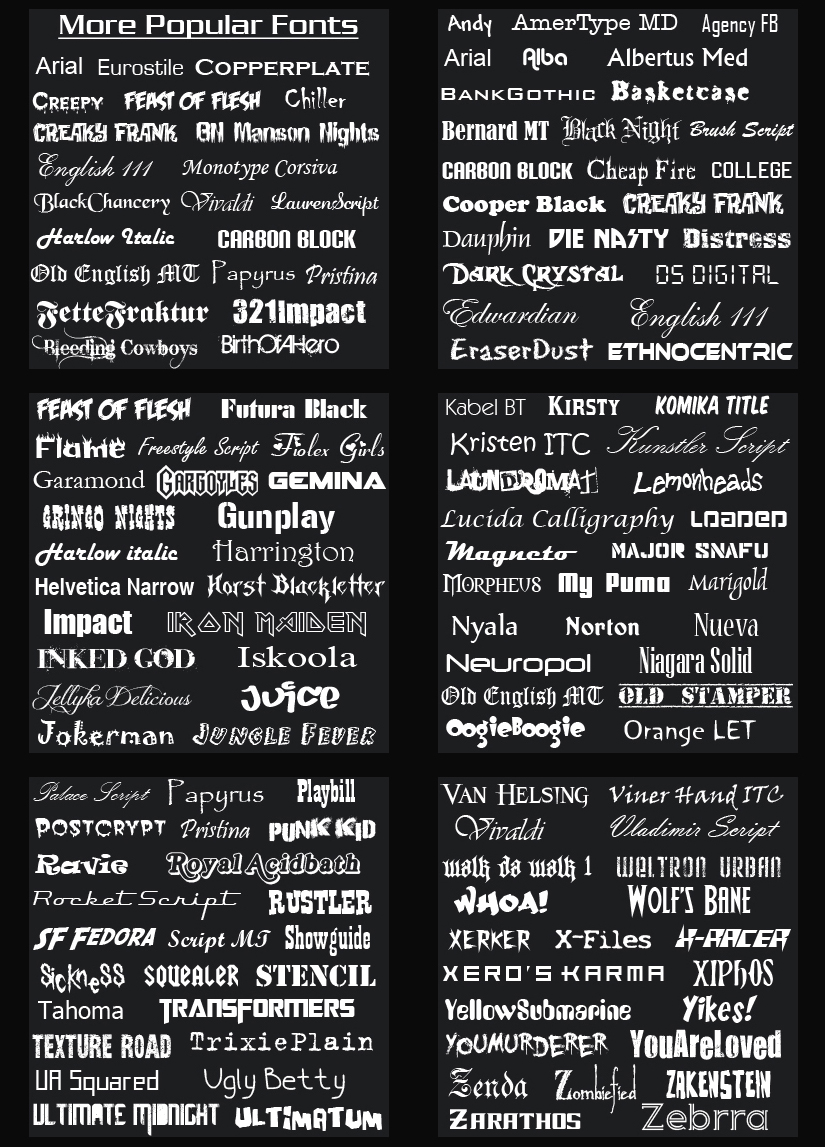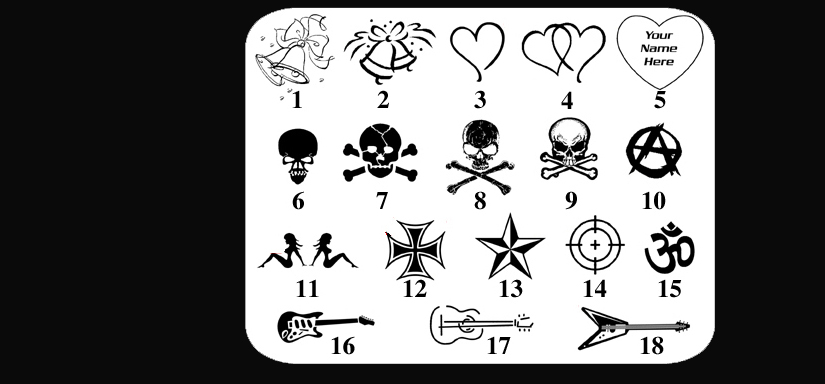 Main Website
&nbsp